You know how I love to Petsercise with my BFFF, Chancey? Apparently, I'm not alone! Yes, it's true – there are others who take their cats on walks in strollers!
I posted my Petsercise video on YouTube awhile back. And this week, I got an interesting comment:
"I made my own cat stroller from an all-terrain stroller, a cat carrier and a hamster cage. It keeps my cat from escaping, provides 360 degree visibility and it safe from almost anything other than a rampaging t-rex. It's a great way to get him outdoors and share our evening walk around the neighborhood."
Wanna see this homemade all-terrain cat stroller? Here's the video: (link, in case the video is not working below…)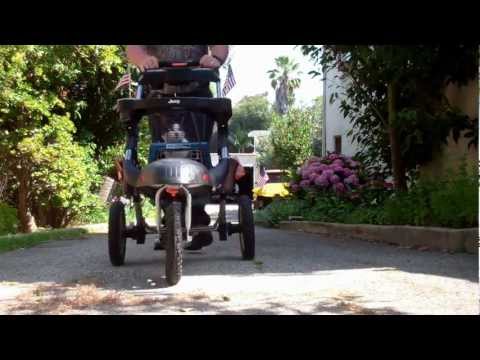 Awesome, no? 😉
By the way, for those of you wondering about Chancey – she is miraculously alive and well. You may remember last December, the vet gave her only a few weeks to live but she somehow pulled through. She's a tough old 18 year old kitty lady and I am so blessed to have her for all these bonus days that I never expected.