Sponsored post
Whoever came up with egg mugs was really on to something. These quick breakfasts make the perfect on-the-go meals. And clean-up is a breeze since you mix, cook, and eat everything in the same mug (or measuring cup, in my case). My current favorite ingredients are black beans and tomatoes mixed with Egg Beaters 100% All Natural Egg Whites. Add some spices and you're good to go.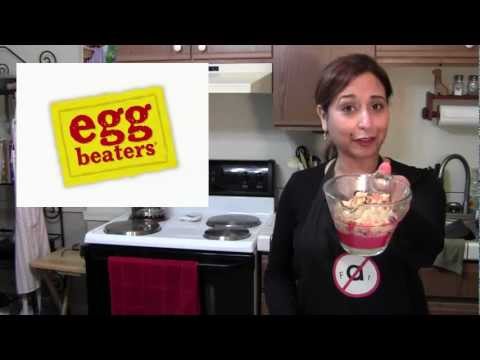 Ingredients:
Olive oil spray
1/2 cup Egg Beaters 100% All Natural Egg Whites
1/4 cup canned black beans, rinsed and drained
1/4 cup chopped tomatoes
1/8 tsp cumin
1/8 tsp chili powder
1 Tbs shredded low-fat cheddar cheese
Directions:
Spray microwave-safe mug with olive oil spray (I use a mister).
Pour Egg Beaters 100% All Natural Egg Whites into mug and mix with cumin and chili powder until blended.
Mix in beans and tomatoes.
Microwave on high for one minute.
Stir; microwave 30 seconds more or until set.
Mix in cheese.
Nutritional Information:
Calories: 175
Fat: 3.5
Sat Fat: 1.5
Protein: 19.25
Carbs: 17.25
Fiber: 3.5
Sodium: 365
Disclosure: This is a sponsored post. Egg Beaters 100% Egg Whites compensated me for it. Regardless, I only recommend products or services I use personally and believe my audience will like.